The society believes that there is a dire need for village development programmes to be replicated so that it realises the vision that "No farmer in India shall be deprived of lack of resources to grow food for us, to solve the problem of hunger. The organisation is highly transparent and makes available the financial information online and also intellectual property to the public.
The Society is depends on philanthropic donors, corporate donors, volunteers and well-wishers for managing large operations to implement the dream projects. The details of the operation include technological innovations, quality standards, delivery vehicles and interacting with various funding agencies.
Donor agencies are requested to support us. The Organization is submitting following Project Proposals to various CSR organizations, Donor Agencies and Departments of Government of India for funding support, to empower the farmers of UK, India.
Present Projects:
Rain water harvesting for empowerment of farmers, to enhance agriculture production and productivity.
Promotion of Eco-tourism in village areas of UK for employment generation and to stop migration of youths from hilly areas to metro cities.
Conservation of Folk Cultural (Songs, dance & music) of the state of Uttarakhand.
Digitation and promotion of Himalayan Art and Culture at national and international stage.
Production of documentary films for Digitation of Indian art and culture.
Future Projects:
Rehabilitation of youth of the villages in farming to stop migration from the villages.
Water harvesting, for agriculture development, environment protection and climate change.
Integrated Agricultural Development & fruit gardening for rehabilitation of farmers.
Promotion of women farmers for Sustainable development for Livelihood.
Research & development programmes on hill area of Himalayan development.
Education & skill development programmes on sensitive issues of environment.
Promotion of eco-tourism; cultural preservation for employment generation.
Health
Look Society is conducting healthcare education programs in remote areas of Redurapryag, UK, India from past 8 years, on skill development, health eradication, proper nutrition intake for pregnant women and growing young girls.
We also organized 5 free eye checkup camps for the local people. The volunteer health professionals associated with us also extend their support to the underprivileged remote areas people by providing free consultancies and medicines.
Mother Group Training:
Mothers' group meeting is another prioritized agenda in Level–II. This is basically about adopting improved health behaviour change practices and generating demand for services. Mothers' groups consist of pregnant women, lactating women of one month and their mother-in–laws. Front line service providers like ASHA, AWW and Dai are also part of it. In one GP there can be one, two and more mothers' group depending on the population of the GP. Mothers' group meeting is based on need assessment. Members of this group are encouraged to adopt healthy behaviour practices.
Capacity Building
The organization is involved in two capacity building & skills in project at deferent levels. It makes more passionate project staff for the prompt action. LS have regularly participated in the training workshop program organized by NGO from time to time. LS project staff had its capacity building on documentation and using software for the ethnicity of data and use of data in case of planning and identification of gaps.
Capacity building of ASHA Workers:
LS facilitated the Capacity building of ASHA through the L-2 ASHA meeting and training like l-3 ASHA's by theses capacity building session project require system strengthening in the field of facilitation Skill Organizing Awareness programmes/ seminar/ workshop, fairs etc. in Health, education, Environment & family welfare along with awareness about yoga & HIV/AIDS.
Education
We are making awareness about computer education, digital education, English speaking, Human rights and constitutional rights, among the poor people. LS is very popular for skill development and poverty alleviation activities in the area. We organized many fairs in past 8 years.
The society is providing vocational training, skill development training in farming, computer, English speaking & taking back to school, drop out Girls form Schools.
Organizing awareness programs about computer education, digital education, Environment, English speaking, Human rights and constitutional rights, among the poor people.
LS also organized the trainings on:
Student and staff skill development programmes.
In-house and outdoor training.
Hand holding and mentoring on field skill of staff.
Field work and according to check list of deliverables working demonstration.
ASHA training, orientation, hand holding, mentoring and demonstration.
Sustainability planning workshop organized every month.
Livelihood Programmes:
The society is organizing skill development programmes, socio-economic development fairs in the region of Uttaranchal round the year, to get public support, to help poor people, to solve the problem of poverty. The organization has started an agricultural development project for livelihood, as a pilot project, in 2015 specially; to set the example to promote farmers and to help poor people, living in remote areas in very critical conditions.
Community Mobilization
LS is working for the community mobilization and behavior change in community. During rapid assessment thousand number of community perceptions came on maternal and neonatal health's which reflected the lack of awareness and lack of knowledge. LS is working in this field and now most of mothers utilizing good health practices promulgated by major activities under community mobilization.
Environment Production
The organization is focused to promote environmental protuction and eco-tourism development activities. Look society operates all its projects and activities in its home state of Uttarakhand. It is a great opportunity for us to serve our hill state devbhumi.
Planting of Trees with Green Vein Foundation:
The Society is working in partnership with Green Vein Foundation on "One Billion Tree Planting Project". This is a 21 years project implemented by Green Vein in five states of India; more state will be covered in the coming years. For the year 2018, Green Vein in partnership with the society would aim to plant 60,000 saplings in the forest areas of Uttarakhand. Micro level planning and identification of strategic locations for interventions is under process.
The society planted thousands of trees in past 7 years. This project aims to plant millions of fruit trees – one for every man, woman and child – in Dehradoon, in future. The effort will not only green the region but improve our understanding of the benefits trees to society. These include fresh air, reducing stress; improve air quality and the amount of time shoppers spend in retail areas. The project is also testing how trees can reduce flooding in built-up areas. We are very much focused on bringing existing woodland into management.
"Finally, we want to engage people in planting more trees, to live in their natural environment and to understanding more about the benefits of trees in our life."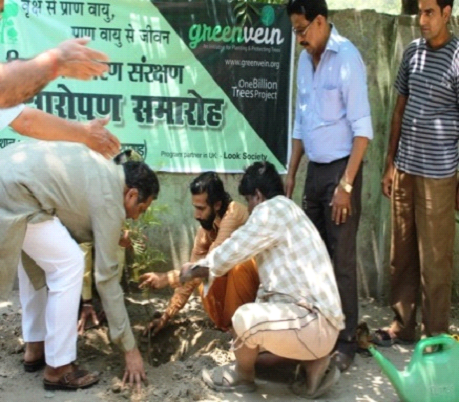 Eco- Tourism
The state Uttarakhand is very rich in natural beauty plenty of tourism resources, diverse wildlife and very prosperous in historical & cultural heritage. The villages of the state seek the financial & technical support for the growth. The society is trying to identify new possibility in tourism to develop and promote the state as one of the best tourist destination in India & the World. Our work is focuses to generate awareness among people and youth in particular to understand the value of the natural wealth of the state, and how this natural wealth would be useful for the state and for the country.
Water harvesting
The society is focused of water harvesting and formed 10 Self Help Groups (SHG) in 10 villages to provided training for self-employment through water harvesting for drinking and farming to generate self-employment at home. Our experts are working on the fields to find out the out of the box solution to support unprivileged people for skill development for poverty alleviation.
Distribution of Water Filter Tanks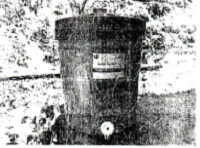 Look Society is working under the guidance of Board of Revenue; Uttarakhand State has collaborated with Indian Institute of Petroleum for the Distribution of 368 numbers of Water Filter Kits targeting Primary and Upper Primary schools in Rudraprayag. Apart from the Water Filter Kits, Look Society is also carrying out distribution of Slippers/ floaters to women and children in the District. In this entire process Look Society was invested in the transportation of the materials from Dehradun to Rudraprayag and will also take up transportation of these materials to schools.
Based on the request from the District Administration, Rudraprayag the organization has placed 80 water filter kit on the Kedarnath route for providing safe drinking water to pilgrims.
Agricultural
Enabling Families to Resettle into Barsu village:
The Society has undertaken a long term project on resettlement of families into Barsu village of Rudraprayag District. The pilot project is a self-initiative intervention proposed for a period of 5 years. Look society is in the process of building meaning partnership with likeminded agencies on this project. The work was started in this kind of project in February 2014 and the organization is spending around Rs. 2.0 lakh per year from its existing sources.
This project is our pilot project; it aims to bring back migrated people to their villages for resettlement by providing sustainable livelihood through Agriculture, horticulture, floriculture, water harvesting, eco-tourism & environment.
The society is getting massive support from local people to implement this kind of project in other villages also. Our organization is making effective action plan to get funds from reputed donors to implement this project in Barsu village and other villages of the area. The society is also trying to get community participation for developing 40 hectares of barren land into productive agriculture land.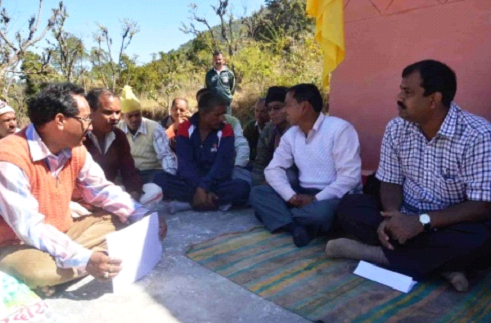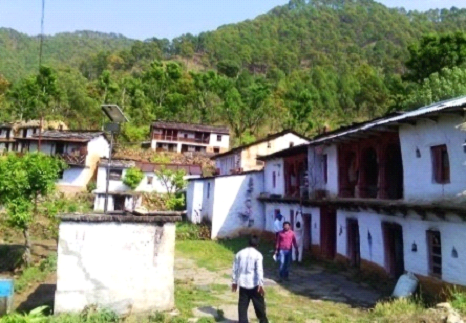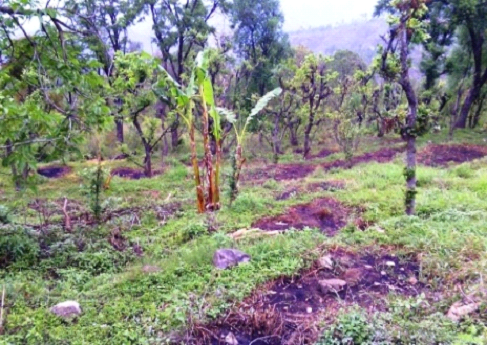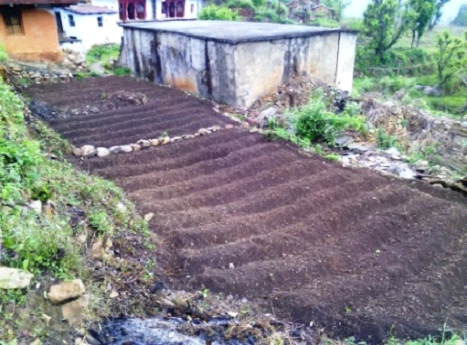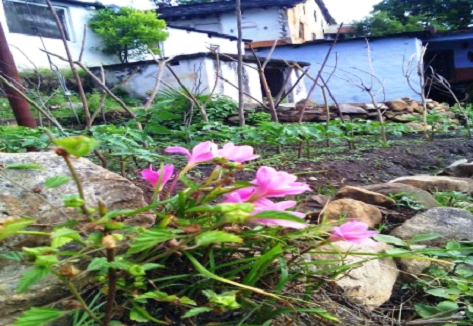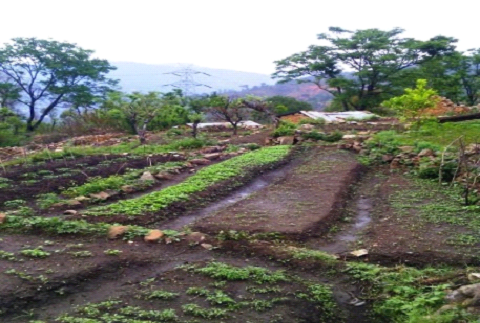 Art & Culture
Conservation of Himalayan Sanskriti:
The society is working for conservation of Himalayan Sanskriti. This cultural program was organized in Dehradoon and Delhi to make awareness among local people to protect and to promote the Culture of Himalayas in the state and the country. People of the area had taken keen interest to participate and suggested us to promote this culture at other parts of the state & the country.
Conservation of Famous Folk Dances of Uttarakhand:
The Culture of Uttarakhand has its strong roots in past. Among the diverse cultures and traditions of India it was one of the unique cultures which can be seen prominently in its various forms of art. Uttarakhand folk dance is not as complex as the classical dance forms but is something which is beautiful to witness.
A folk dance of the state is a reflection of the deep sited beliefs and traditions of the local people which is performed to express joy & celebrate the arrival of every new seasons round the year.
The society is working for conservation of these folk dances; Barada Nati, Bhotiya Dance, Chancheri, Chhapeli, Choliya Dance, Jagars, Jhora Dance, Langvir Dance, Langvir Nritya, Pandav Nritya, Ramola, Shotiya Tribal Folk Dances, Thali-Jadda and Jhainta are some of the folk dances affects the life of the people and are performed in various occasions in different part of Uttarakhand.
Digester management
⦁ Winter Cloths Kit Distribution:
This program was started in 2012. The Society was involved in the relief programme by organizing winter cloth kit distribution to 2000 families in Kedarnath Valley of Rudraprayag. The distributed winter kits contained items such as 2 blankets, sweater, Jackets, Gloves, socks in Kedarnath Valley covering over 25 villages. Needy people were identified and were called at the distribution centre from where the winter kits were given to them. The NGO ensured that all people would be ensured with dignity while distributing these blankets.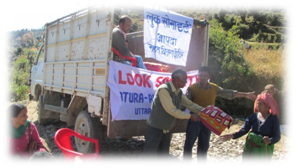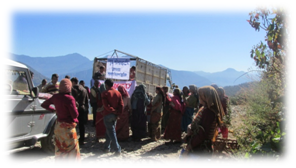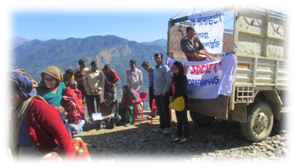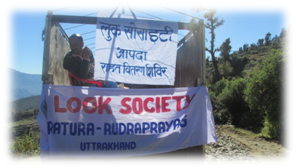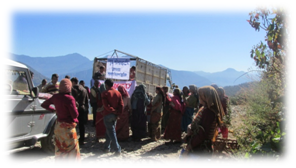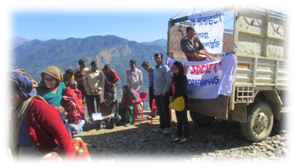 Rehabilitation of 350 digester effected people:
The society started this project in 2010 and still working on rehabilitation of farmers to enhance agricultural production & productivity. There are many vulnerable people being affected by the disaster of June 2013. However, the State Government provided the financial support to only those families/ individuals whose houses were damaged completely or partially, and given compensation to dead and missing people, and people who have lost their agricultural land, mules and domestic animals. The state is not in a position to support other vulnerable people apart from the above mentioned. Therefore the District Administration has asked few support agencies, NGOs for providing unconditional cash to such socially vulnerable people.
Morari Bapu Trust has shown interest in supporting such people; and appointed Look Society to carry out the survey. Currently the NGO has identified around 350 socially deprived people viz., widow, orphans, and people with disability, old aged people, unemployed youth and deprived children. The survey has been completed and the final distribution of Unconditional Cash Transfer (UCT) done in June 2014. Now, the society is working for rehabilitation of all these people by 2021.