POST DISASTER RELIEF AND RESPONSE
The recent 14-15 June 2013 cloud burst disaster in Uttarakhand has left thousands of families in districts of Rudraprayag, Uttarkashi, Chamoli and other neighboring districts homeless. Over 5000 people were feared to have been killed in devastated floods. The survivors lived in fear abandoning their severely damaged houses and having to live in makeshift shelters. Most families have lost the lands on which homes, their little farms and shops once stood. Look Society felt the need for support the affected survivors and had committed to initiate rehabilitation and recovery interventions in Rudraprayag District. The organization has also planned for long term development works on livelihood and Disaster Risk Reduction (DRR) programs in Rudraprayag and adjacent districts. The following are few interventions by Look Society –
Look Society was involved in the relief programme by organizing winter kit distribution for 2000 families in Kedarnath Valley of Rudraprayag. The distributed winter kits contained items such as 2 blankets, sweater, Jackets, Gloves, socks in Kedarnath Valley covering over 60 villages. Needy people were identified and were called at the distribution centre from where the winter kits were given to them. The NGO ensured that all people would be ensured with dignity while distributing these blankets.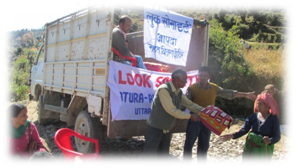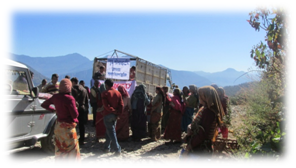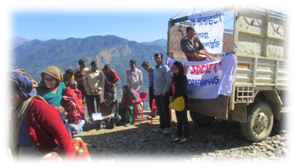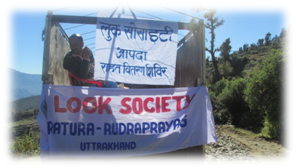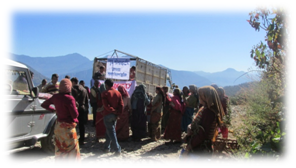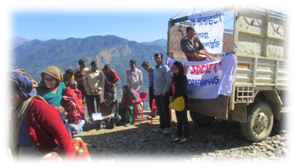 Socio-vulnerability Survey through District Administration for Morari Bapu Trust:
In the district there are many vulnerable people being affected by the disaster of June 2013. However, the State Government would only provide financial support to those families/ individuals whose houses were wither completely or partially damaged, compensation to dead and missing people, and people who have lost their agricultural land, mules and domestic animals. The state is not in a position to support other vulnerable people apart from the above mentioned. Therefore the District Administration has asked few support agencies for providing unconditional cash to such socially vulnerable people. Morari Bapu Trust has shown interest in supporting such people, therefore it has appointed us (Look Society) to carry out a survey. Currently the NGO has identified around 350 socially deprived people viz., widow, orphans, people with disability, old aged people, unemployed youth and deprived children. The survey has been completed and the final distribution of Unconditional Cash Transfer (UCT) would be done by June 2014.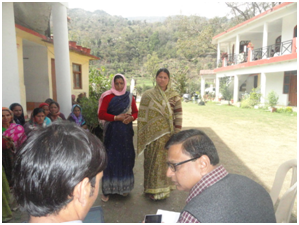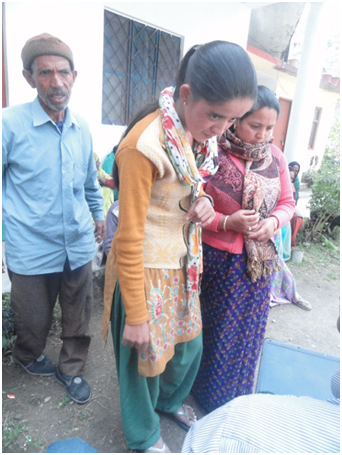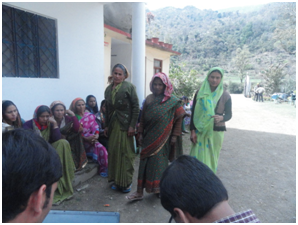 Distribution of water filter tanks and equipments in Rudraprayag
Look Society under the guidance of Board of Revenue, Uttarakhand State has collaborated with Indian Institute of Petroleum for the Distribution of 368 numbers of Water Filter Kits targeting Primary and Upper Primary schools in Rudraprayag. Apart from the Water Filter Kits, Look Society will also be carrying out distribution of Slippers/ floaters to women and children in the District. In this entire process Look Society has invested in the transportation of the materials from Dehradun to Rudraprayag and will also take up transportation of these materials to schools. Based on the request from the District Administration, Rudraprayag the organization has placed 80 water filter kit on the Kedarnath route for providing safe drinking water to pilgrims.
Enabling families to resettle into Barsu village of Rudraprayag District
Look Society has undertaken a long term project on resettlement of families into Barsu village of Rudraprayag District. The pilot project is a self initiative intervention proposed for a period of 5 years. Look society is in the process of building meaning partnership with likeminded agencies on this project. The work has started since February 2014 and so far the organization has spent around Rs. 2 lakhs from its existing sources. The project will aim to bring back people to their settlement by providing sustainable livelihood in Agriculture, horticulture, eco-tourism, etc. During the work tenure, the organization through community participation, would toward making 40 hectares of barren land into productive agriculture land.
Partnership with Greenvein Foundation on "One Billion Tree project".
Look Society would be happy to partnership with Greenvein Foundation on "one billion tree project". This is a 21 years project implemented by Greenvein in five states of India; more state will be covered in the coming years. For the year 2014, Greenvein in partnership with Look society would aim to plant 60,000 saplings in the forest areas of Uttarakhand. Micro level planning and identification of strategic locations for interventions is under process. A nursery for creating higher altitude plants is established in Barsu.
NURSERY FOR SAPLING GROWING
One large scale nursery in 1.5 acres of land is developed under the One Billion trees project in Barsu initiated by Greenvein Trust, Haridwar in support with Look Society.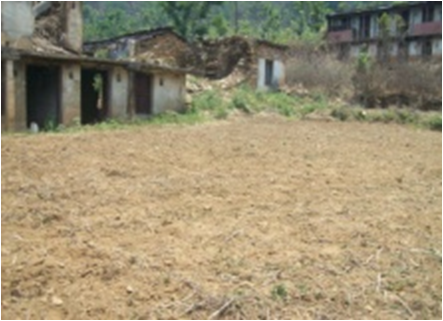 | | | |
| --- | --- | --- |
| Sr. No | Name of Staff/ Consultant | Profile |
| 1. | Mr. Praveenkumar Pawar | Water Supply, Sanitation and Hygiene expert, Disaster Management Expert. 15 years of experience in development field. |
| 2. | Dr. Guruprasad Sati | Ph. D in Bio-fencing. Technical Advisor for the organization. |
| 3. | Dr. Prajendra Prasad Kuksal | Ph. D in Botany and retired Horticulture officer. Senior consultant, 35 years of experience in development and environmental activities |
| 4. | Harsh Vardhan | MBA Expert in Tourism planning & research |
| 5. | Mr. Puthumai Nazarene | Disaster Management Expert, Community Development, Data Analyst & GIS Coordination. 15 years of experience in development related activites. |
| 6. | Ms. Rashmi Rawat | MBA. Expert in eco-tourism. |
| 7. | Ms. Seema Dimri | Four years of experience on Livelihood. Programme Manager for the Organisation. |
| 8. | Mr. Vijay semwal | Msc. in Botany. Project Coordinator for Barsu Village project. |
| 9. | Mr. Anup Semwal | Supervisor, Barsu Village Project |
| 10. | Mr. Kuslanand Nautiyal | Administration and Accounts, Barsu Village Project. |
Five full time labourers for the Barsu village project.
PROPOSED INTERVENTION
Look Society proposes to work on the following –
Sustainable Livelihood and Women Empowerment
Eco-tourism; cultural preservation and promotion
Aforestation and environmental issues
The Organization will produce a Detailed Project Proposal on the above mentioned interventions, upon request from Donor Agencies.
GENERAL DETAILS
Name of the Society
"Look Society"
Registration Number
S565, Registered under societies Act 1860.
12(A) and 80G
Received 12(A) and 80G on 13.05.2014.
Address
Thapliyal Building, Opp. PNB Ratura, Rudarprayag District. Pin Code: 246171. (address changed)
Contact Details
Ms. Praveenkumar Pawar
Mobile: +91 9897916148
looksociety3@gmail.com
info@looksociety.org
(Thanks)
Look society